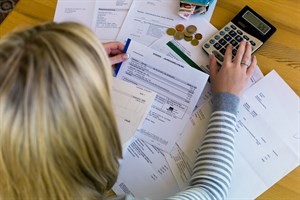 Living in the sunny state of Florida is like a two-edged sword. We enjoy a temperate climate; have easy access to the most beautiful beaches in the country (as a matter-of-fact, Floridians anywhere in the state are never more than 45 minutes away from the beach); and can boast a diverse, thriving economy.
However, the same warm weather we love so much can get really overbearing. High humidity and average yearly temperatures of 82°F make air conditioning man's second best friend for most South Floridians. Thus, it's no wonder that our energy bills are some of the highest in the nation. The average household in the state of Florida pays a whopping $121.00 every single month to keep the electricity running. Home air conditioning cost plays a big part of those hefty bills.
But you don't have to settle for that huge financial strain. Just think what you could do if you could save a fourth or even a third of that money a year. Invest? Treat yourself to something nice? To say goodbye to an exorbitant bill, here are six surefire ways to significantly reduce the cost of air conditioning in your home today.
Use a Programmable Thermostat
One of the easiest ways to level the central air conditioning cost of your home is to use your thermostat wisely. A lot of people don't change their thermostat settings when they're away from home. By keeping your living space cool (or warm, if we're talking winter-time) when no one's even home, you're spending needlessly. Yeah, it's nice to come to come home to a well-cooled house after a long day out and about in the heat, but the luxury is costing you hundreds of dollars over a lifetime.
So here's what you do. Set the thermostat to four degrees warmer when you're not home. That's it. This simple trick can save you as much as 5 to 20 percent on your electricity bill!
Leverage the Power of your Home's Ceiling Fans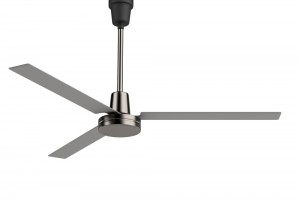 Hey, that thing hanging from your ceiling is more than a nice decoration! It's a great device for keeping your home's air condition cost at a reasonable level.
Interestingly, fans don't cool your space. What they do is circulate the air. So why does that make the heat subside? Well, remember that hot matter rises while cold matter sinks. All you need to do get rid of the hot air is move it up and out. To do this, simply spin your fan counter-clockwise.
If you don't have a ceiling fan, you can also use standing fans throughout the house to achieve the same movement of air. By so doing, you can raise the thermostat setting by 4°F without sacrificing any comfort whatsoever.
Get Some Shade
Hey, remember that sunlight carries heat with it. If you block out potent solar rays, you can effectively cool your home naturally and thereby lower the cost of air conditioning.
There are different ways to do this. If you're a homeowner, cultivate flora to keep the light out. Planting trees, vine, and the like are easy, low-cost solutions to reducing your home's exposure to the sun.
If you rent, or if planting trees isn't an option, you can buy shades or blinds for your windows. Although the sun will still be hitting your house, at least you'll cut down on the amount that gets into the interior of your home.
Make Sure to Clean your AC Filters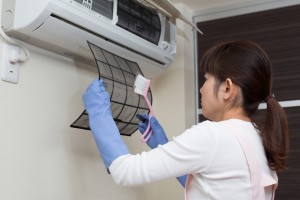 One of the biggest contributors to an inefficient HVAC system and a high central air conditioning cost is having dirty air conditioning filters. When your filters are dirty, airflow is obstructed and the evaporator coil's heat-absorbing capacity is impaired. It's important to tend to them at least on a monthly basis. Some coils can be cleaned while others need to be replaced. You can either hire help or do it yourself without too much difficulty.
Service Leaky AC Ducts
Cracks, leaks, and splits in your home's ductwork can account for as much as 40 percent of lost air. This is especially true in older homes. Because detecting and sealing leaks is a pretty intensive process, you may want to seek an HVAC expert to help you get the job done and stabilize the cost of air conditioning in your home.
Get your Air Conditioner Replaced
If it comes down to it and you're fighting to keep alive an AC unit that's nearly keeling over, it may be time to buy a new air conditioner. You'll have to spend some money to make the purchase, but in the long-term you'll save as much as 50 percent on your home's central air conditioning cost. Plus, there are all kinds of financing options available that fit your budget.
Conclusion
There's no secret to cutting down on the cost of air conditioning. With a few simple modifications, you can save big on your electricity bill while still enjoying the comfort of a cool home. If you need help with services like duct maintenance, filter replacement, or unit installation, you can contact us to get the job done at low prices.
---
(954) 368-0655
---
Air Conditioning Excellence Inc.
Proudly Serving South Florida Since 1986:
BROWARD
PALM BEACH
Atlantis, Boca Raton, Boynton Beach, Briny Breezes, Delray Beach, Greenacres, Highland Beach, Hypoluxo, Juno Beach, Jupiter, Lake Clarke Shores, Lake Worth, Lantana, Manalapan, Mangonia Park, North Palm Beach, Ocean Ridge, Palm Beach, Palm Beach Gardens, Palm Beach Shores, Palm Springs, Riviera Beach, Royal Palm Beach, South Bay, South Palm Beach, Tequesta West Palm Beach
Summary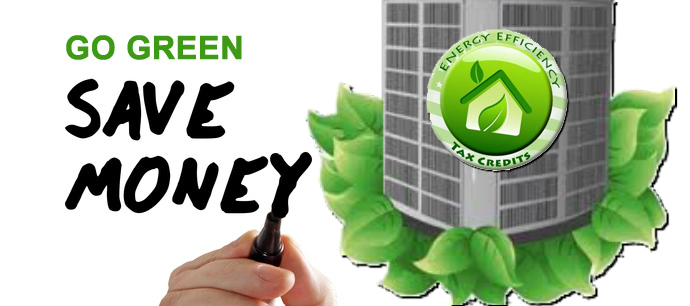 Article Name
6 Surefire Ways to Reduce the Cost of Air Conditioning Right Now
Description
There's no secret to cutting down on the cost of air conditioning. With a few simple modifications, you can save big on your electricity bill while still enjoying the comfort of a cool home.
Author